Overview
Corporate Profile
Nkarta is a clinical-stage biopharmaceutical company focused on the discovery, development and commercialization of allogeneic, off-the-shelf engineered natural killer (NK) cell therapies. Nkarta seeks to improve upon the efficacy of cell therapy, making it more potent, better tolerated and more rapidly available to a broad population of patients with a variety of hematologic and solid tumor malignancies.
NKX019 Clinical Update Presentation - December 2022
NKX101 and NKX019 Initial Clinical Data Presentation – April 2022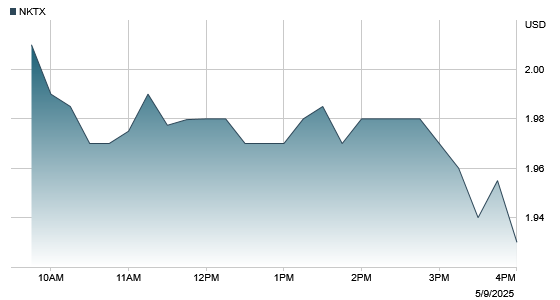 Data Provided by Refinitiv. Minimum 15 minutes delayed.
Press Releases
Aug 10, 2023
Aug 03, 2023
Jul 05, 2023
Events
Aug 10, 2023 at 12:00 PM EDT
Jun 27, 2023 at 8:00 AM EDT
Apr 17, 2023 at 3:00 PM EDT